ICM Airport Technics
A leader in self-service bag drop and baggage handling solutions.
ICM has been a leader in the provisioning of automated baggage handling systems for airports since 1977.
Our range of 'Auto Bag Solutions' address the mission critical processes at airports for handling and managing passenger hold baggage. From bag tagging and drop off to screening and loading, our products and services revolve around automation of baggage processes.
Our solutions cover "above the wing" passenger bag drop processes to "below the wing" baggage ramp operations. Our approach is to provide uncompromised safety and security along with reliability and efficiency.
As an experienced systems integrator we work in close partnership with our clients to ensure their needs are fully met. We achieve this through providing best in class process-engineered solutions based on the most appropriate range of equipment.
ICM uses its unrivalled baggage processing and operational knowledge, together with its specialist engineering skills in automated baggage handling and control systems development, to deliver the optimum solution in terms of cost, efficiency and reliability.
Our engineering and IT teams have experience in baggage system design, control systems development, self-service bag drops, and general airport-based baggage systems. These unique skills and our extensive experience ensure that ICM is recognised as an industry sector leader in the provision of automated baggage solutions.
Auto Bag Drop Solution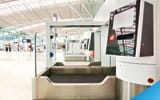 User Friendly Systems
Our Auto Bag Drop uses a simple, intuitive graphical user interface. Easily configurable for specific airline requirements and branding.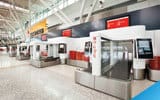 Safe and Secure
Anti-intrusion systems prevent any kind of trapping or injury to passengers, as well as maintaining the integrity of the weighing process. Detect intrusion by persons or objects.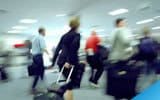 Fast and Efficient
All processes are conducted on the first belt resulting in fast transaction times and improved workflow processes.