When it comes to retail and airport economics: every second counts
By Richard Dinkelmann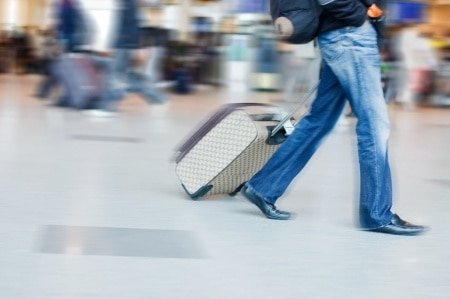 There is no denying that airports across the world are increasingly relying on their retail division to drive profitability, with leading specialist SITA finding that 22 per cent of Sydney Airport's revenue in 2014 came from the retail sector alone.
This finding comes as no surprise for airport managers, who are seeing the dynamics of their business models shift. The increased power of low cost carriers, particularly in regional airports, means that the traditional fee-based structures are evolving. As air traffic continues to grow in light of the dramatically reduced costs of travel, higher footfall in airports is creating more opportunities for operators.
However, in order to maintain profitability, airports are faced with a new challenge: to provide travellers with new avenues to spend their money, and maximize the time and exposure that passengers have to retail within the terminal.
Airports are increasingly being recognised for the excellence of their overall shopping experience, bringing in leading retail design expertise to create spaces that attract and embrace travellers. Another important realization that is taking place is that by maximizing the time passengers spend in the terminal post check in, airports can dramatically increase retail spend.
In this new environment, designing and maintaining a pleasurable and seamless experience for passengers from when they arrive at the terminal to when they board their aircraft can make the difference between a profitable and a failing airport. Long and stressful waiting lines, or inefficient pre-security processes or systems have dual negative effects. They both create frustrated travellers who are less likely to spend in airport retail, and they reduce the potential retail spend time within the terminal.
Technology advances are fast proving to be the missing piece of the puzzle when it comes to enhancing overall productivity and profitability in airports worldwide. Here are three leading examples of how airports are using technology to improve their customer experience and add valuable minutes to travellers in terminal time.
Auto bag drops: By making the check-in experience significantly faster, auto bag drops prolong the 'golden hour' between security and boarding, giving travellers more time to shop up a storm. SITA research found that 68 per cent of passengers actually preferred the automated check-in experience, so it is no wonder Singapore's Changi Airport has confirmed its plans to deploy auto bag drops in their new terminal by 2017.
"Drop and shop" bag stalls: Vienna International Airport gives travellers the chance to drop off their baggage the day before travelling with a late night check-in counter, while Hong Kong Airport provides "in-town check-in" places for travellers who want to drop their luggage off at any time in the city and make their way to the airport bag-free; Less time spent in queues makes for more relaxed passengers, and relaxed passengers are more prone to shop.
Retail profiling: Airports are beginning to recognise the strong marketing potential of automated technology. International airports and airlines are jumping on board the Bluetooth bandwagon by using "beacons" to send customised, commercial offers to travellers shopping within a 30 metre radius. Tools such as facial scanning have the potential to reduce queue lines further, by bringing up travellers' details automatically at the duty free counter.
So with automatic technology improving the overall, retail experience for travellers and accounting for a significant increase in airport revenue, airports themselves are fast becoming the new points of destination.
Richard Dinkelmann is CEO of ICM Airport Technics.