ICM exhibits at PTE Stockholm 2018
At Passenger Terminal EXPO 2018 in Stockholm, ICM announced their next-generation check-in kiosk, and demonstrated two operational CUSS Auto Bag Drop (ABD) units: a retrofit and a full replacement solution.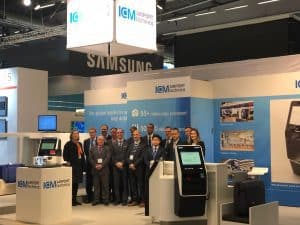 2017 was a breakthrough year for ICM, launching and installing a number of new products whilst adoption of self-service baggage solutions has soared in airports all over the world. In the last 12 months, the first ABD with fingerprint scanning technology went live, the Series 1 Type 2 ABD was launched and ICM diversified its product offering by introducing its next-generation check-in kiosk solution with integrated biometrics on top of its expanding bag-drop range.
During the same period, Singapore Changi Terminal 4 saw 50 of ICM's biometrically enabled ABD units go live when the terminal opened in October. Delta Air Lines partnered with ICM to install biometric bag-drop technology at Minneapolis-St. Paul Airport, and Heathrow Airport placed a rollout order for ABDs for Terminal 2 with a view to increasing this number in the future.
Over 370 ABD units are now operational in 25 airport terminals across the world and have processed more than 55 million bags. Visit stand 715 to discover how ICM's range of self-service baggage and check-in solutions frees up terminal space and significantly reduces costs to airports and airlines.
Passenger Terminal EXPO Stand 715, 20-22 March 2018