ICM's Auto Bag Drop (ABD) units now live at Aeroport Marseilles Provence (AMP)
AMP ordered 8 of ICM's Series 1 ABD units, with the first two units going live last week with Air Corsica at Terminal 1. The other 4 units will be installed later this year for Air France passengers in hall B and two others in hall A.
The Series 1 ABD unit allows passengers to scan their boarding pass, print a bag tag, then place their bag (with bag tag attached) onto the belt. They are developed, manufactured and installed by ICM, specifically designed to ease terminal flow and speed up passenger check-in times.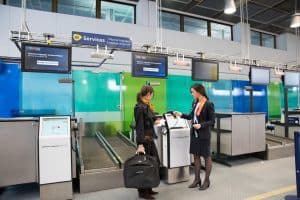 Cécile Gorlier-Crousier, Head of the Aeronautical Operations Department at AMP:
"This new equipment will allow passengers to have a better, faster, more fluid and autonomous experience when checking in their luggage. We are delighted to inaugurate our first aircraft with Air Corsica, an important partner of our airport."
Gilles Albertini, Director of Operations and Customer Experience at Air Corsica:
"Air Corsica attaches great importance to simplifying its customers' journey through airports. The development of e-checking has helped to facilitate the registration of passengers, but the check-in of baggage remains an important constraint. The Marseille Automated Baggage Deposits Deployment Project is a clear response to this simplification process for travelers. These new means allow us to improve the speed of check-in of the hold baggage and the fluidity of the queues by simplifying the journey of our customers."
This installation comes after ICM announced in February a roll-out order by Groupe ADP of 72 ABD units for Paris-Orly airport, France, due to go live in early 2019.
ICM's ABD units can be found in major airports across the globe including Auckland, London Heathrow, Minneapolis-St.Paul, Munich, Paris CDG & ORY, Singapore Changi and Sydney amongst many others.