ICM Auto Bag Drops installed at Qantas hit 10 million bags
ICM delivered a successful roll-out of 80 Auto Bag Drop (ABD) systems for Qantas Airlines in six airports across Australia. The first of these units have been in operation since July 2010 and now more than 10 million bags have been successfully injected using the Auto Bag Drops.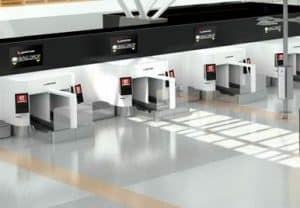 ICM's Auto Bag Drop solution allows passengers to drop off their own bags without the assistant of an agent. The Auto Bag Drop unit will automatically check baggage weight and size allowances, print a heavy bag tag if necessary, check for non-conveyable and multiple bags, and securely induct the bag into the baggage handling system. The user-friendly and fast solution has been proven for dedicated and common use airports in both domestic and international environments.
"This is a significant milestone. We are very pleased with the Auto Bag Drops ICM implemented in all of our major city airports. Providing a smarter, faster bag drop process has proven to be a big hit with our passengers." said Gabriella D'Alessandro, IT Manager at Qantas.
ICM's Richard Dinkelmann – Managing Director of ICM Airport Technics Australia said "We are very pleased with the success that Qantas has achieved operating the Auto Bag Drops. This is a great achievement and demonstrates the high level of satisfaction that customers have with the Auto Bag Drops".