Star Alliance Selects ICM Airport Technics' Auto Bag Drop for Heathrow Terminal 1
ICM Airport Technics has been awarded a contract by Heathrow Airport Ltd to install self-service bag drop trial units at Heathrow Airport in Terminal 1.
ICM's Auto Bag Drop solution allows passengers to drop off their own bags without the assistant of an agent. The Auto Bag Drop unit will automatically check baggage weight and size allowances, print a heavy bag tag if necessary, check for non-conveyable and multiple bags, and securely induct the bag into the baggage handling system. The user-friendly and fast solution has been proven for dedicated and common use airports in both domestic and international environments.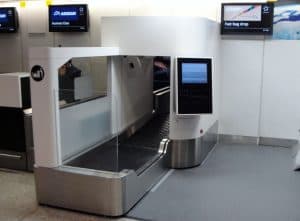 An off-site trial unit and a on-site live trial has been implemented for South Africa Airways, TAP Air Portugal and Aegean Airlines using ICM's CUSS (Common User Self Service) platform and the Amadeus airline application.
"We are excited to be working with the Star Alliance airlines and Amadeus to provide a world class solution for passengers at Heathrow Terminal 1. Our end goal is to demonstrate the substantial benefits that can be achieved from Auto Bag Drops improving the customer experience and enabling faster drop-off times." said Michael Sanderson, Managing Director of ICM Airport Technics UK.
ICM Airport Technics is a leader in automation of bag drop, baggage, material and cargo handling solutions. They operate around the world as a system integrator and full service supplier. Their experienced team has a proven track record in implementing self-serve bag drop solutions, with over 10 million bags processed and more than 80 Auto Bag Drops in production. Solutions that have not only revolutionised baggage drop off, but also provided exceptional returns.
With Offices and Representation worldwide, ICM is well positioned to support airport and airline initiatives to improve the passenger experience and reduce operational costs. They continue to set industry benchmarks in bag drop transaction times and throughput.