Shanghai Hongqiao International Airport goes live with ICM's self-service bag drop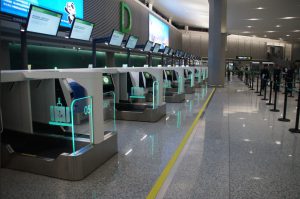 Terminal 1 at Shanghai Hongqiao International Airport (SHA) has gone live today with eighteen of ICM Airport Technics' Series 7 Auto Bag Drop (ABD) units for Spring Airlines. This is part of a larger renewal project for Building B in Terminal 1, which began renovations earlier this year.
ICM's Series 7 ABD units deliver exceptional benefits to both airports and airlines, and present passengers with a much simpler and faster process for checking-in their bags. This order from Hongqiao comes after a busy 12 months for ICM who implemented successful ABD go-lives across the world including London, Sydney, Paris, Singapore and Marseille.
Whilst ICM's ABD technology is being embraced all over the world, this installation is ICM's first in China. Many Chinese passengers may already be familiar with the Series 7 ABD system if they have flown from Singapore's Changi Airport or with Qantas from Sydney International Airport.
"We're incredibly proud to see ICM's world leading self-service bag drop technology in China, one of the fastest growing markets in the world. Hongqiao is a breakthrough order for ICM, not only because it's our first in China, but also our first with a Chinese airline – Spring Airlines. We look forward to rolling out many more systems throughout mainland China in the future.'
Richard Dinkelmann, CEO of ICM Group.
ICM's range of ABD units can be found in major airports across the globe including Auckland, London Heathrow, Minneapolis-St.Paul, Munich, Paris CDG & ORY, Singapore Changi and Sydney amongst many others.