ICM Launches Auto Bag Drop Hybrid
The world's most proven self-service bag drop solution just got better.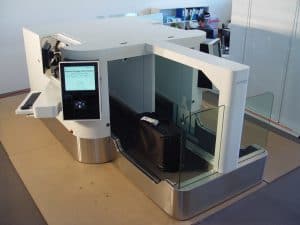 Introducing the Auto Bag Drop Hybrid solution that can easily switch from Unassisted to Assisted mode with a full CUTE solution built in.
Airports and Airlines now have the full flexibility to deploy a solution that meets today's and tomorrow's requirements, with the ability to reduce costs and improve passenger experience.


The Auto Bag Drop Hybrid series provides additional functionality for Agent Assisted tasks to cater for International airport requirements, with the addition of an Agent Station, to allow assisted Check-in and Bag Drop.
The unit can operate in three modes:
Self-service Bag Drop
Agent-assisted self-service Bag Drop
Agent operated Check-in and/or Bag Drop (full service)
International terminals are likely to require this model to provide for manual visa checks.